Putin Says France 'Deceived' Russia On Syrian UN Resolution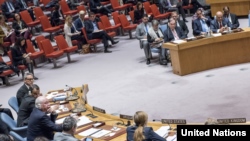 "We stated that we were prepared to support the initiative of UN special representative Staffan de Mistura on withdrawal of militants from Aleppo. This was perceived positively by France.…Then the French foreign minister flew from Moscow to Washington. The next day he appeared with Mr. Kerry and accused Russia of all mortal sins.…They threw the [Security Council] resolution out there, clearly expecting our veto."
Likely False
..France had stated publicly what the resolution would include
When French Foreign Minister Jean-Marc Ayrault flew to Moscow October 5-6 to negotiate a UN Security Council resolution on Syria with Russian counterpart Sergei Lavrov, the Kremlin expressed confidence that its concerns about the need for Syrian opposition fighters (notably the Al-Nusra Front, now known as Jabhat Fateh al-Sham) to leave Aleppo would be addressed in the draft. But after Russia vetoed the resolution, President Vladimir Putin said that he had been misled and that Ayrault had told him he "did not want to provoke a Russian veto." Putin said "all the blame for the situation was placed on official Syrian authorities and nothing was said about the opposition." He accused France of deliberately attempting to "aggravate the situation, whip up anti-Russian hysteria in the controlled media, deceiving its public."

But Ayrault told reporters that he had negotiated in good faith with Russia. He said he had accepted some Russian proposals but had failed to convince them to include a call to stop Syrian and Russian bombing of Aleppo.

"We couldn't accept a resolution that did not address such an essential issue," he said, adding that there would be an inquiry into allegations of war crimes in the Syrian city.

"The massacre in Aleppo is continuing. I am appealing for an end to this massacre and to save the people of Aleppo. It is never too late to make peace," he said.

Even before Ayrault's trip, an unidentified French diplomatic source was quoted by Reuters on October 5 as saying that the draft urged Russia and the United States to "to ensure the immediate implementation of the cessation of hostilities, starting with Aleppo" by ending military flights over the city. French officials said that if Moscow were to oppose the resolution, France would propose it anyway to force Russia's veto, thus highlighting Moscow's complicity with the Syrian government, Reuters reported.

Putin made no mention of Russia's bombing of Aleppo in his accusations against France, thereby omitting the main point of the French draft resolution and what Ayrault said was the real reason for Russia's veto.

In the end, the French resolution -- co-sponsored by Spain -- demanded an immediate halt to aerial bombardments and military flights over Aleppo. It failed to pass, with 11 affirmative votes (Egypt, France, Japan, Malaysia, New Zealand, Senegal, Spain, Britain, Ukraine, Uruguay, and the United States), two abstentions (Angola and China), and two rejections (Russia and Venezuela).

A Russian counter-resolution also failed, with only four in favor (China, Egypt, Russia, and Venezuela), nine against (France, Japan, Malaysia, New Zealand, Senegal, Spain, Ukraine, Britain, and the United States), and two abstentions (Angola and Uruguay).