Dmitry Kiselyov's Lawyers Say He Never Backed Russian Military Intervention in Ukraine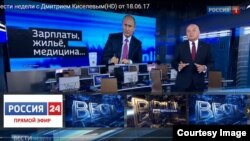 "Dmitry Kiselyov has never expressed support for the directing of Russian forces to Ukraine... The EU Council did not provide information necessary to ensure [his] legal right to defense, since the accusations leveled were formulated in an unduly vague way."
False
Kiselyov used his weekly TV show to back Kremlin actions in Ukraine.
In mid-June, Dmitry Kiselyov, director general of the Russian government-owned international media holding Rossia Segodnya, lost a suit he filed against the European Council at the Luxembourg-based Court of Justice of the European Union (CJEU), the EU's chief judicial authority.
In the application he submitted to the CJEU in May 2015, Kiselyov demanded that the court annul sanctions the EU imposed on him for his role in Russia's intervention in Ukraine.
The court ruled in favor of the European Council, leaving the sanctions intact and ordering Kiselyov to pay court expenses.
Kiselyov's lawyers then claimed the EU denied their client his right to legal defense, implying that the CJEU approached their client's case on the basis of political considerations, not legal ones.
The proceedings and ruling in Dmitry Kiselyov's case were similar to those in any other case, the CJEU's press office in Luxembourg told Polygraph.info
"The case was held before the General Court and the verdict speaks for itself; you just have to look at the judgment," said CJEU representative Stefaan Van der Jeught.
"In this case the General Court, a panel of three judges, looked at all the facts, looked at all the arguments that were brought up, and made a decision," he said. "In general, if parties are not in agreement with the judgment, then they can appeal."
In comments to the Russian media, Kiselyov's lawyers claimed he never supported the deployment of Russian forces into Ukraine.
Rasa Jukneviciene, a member of Lithuania's parliament and the country's former defense minister, rejected that claim.
"In this particular case, propaganda actively contributed to the destabilization of Ukraine," she told Polygraph.info. "Kiselyov provided active support to the Russian government in the annexation of Crimea and interventions in Eastern Ukraine. Therefore, he is equally as responsible as those who have executed orders to occupy a specific territory using conventional military means."
On March 2, 2014, some two weeks before Moscow annexed Crimea, Kiselyov declared on "Vesti Nedeli" (News of the Week), his weekly show on Russian state television's Channel One: "Russia is answering the plea for protection coming from the Russians in Ukraine and in Crimea. In complete accordance with the constitution, President Putin has been granted the right to use troops in Ukraine!"
Other observers say Kiselyov clearly backed Russia's annexation of the Ukrainian Black Sea peninsula.
"It is absolutely untrue that he didn't support Moscow on Ukraine," Paul Goble, a former U.S. presidential adviser on Russia and Eurasia, told Polygraph.info.
Alexey Kovalev, a Russian investigative reporter and founder of the fact-checking website "Lapshesnimalochnaya," told Polygraph.info: "If you watch all his programs since February 2014, Kiselyov actually never said such a phrase as 'I support Russia's military presence in Ukraine', but all of this is craftiness, of course."
"If he was not supporting the presence (of Russian troops in Ukraine), nobody would allow him to host the highest-rated program on the biggest federal TV channel," Kovalev said. "He, of course, does it in a less straight-forward way compared with classic propaganda manipulations. But, for the last three years, 'Vesti Nedeli' has existed only for that – to inflame military hysteria in Russian society in regard to Ukraine and to Syria."
Dmitry Kiselyov is notorious for aggressive and often radical rhetoric aimed against the United States and European Union. According to multiple reports, he is "Putin's favorite TV host" and the "chief spin doctor of Russian propaganda."
"After the ruling of the EU's General Court, it is clear that propaganda is not covered by the freedom of speech," Lithuanian MP Rasa Jukneviciene told Polygraph.info.
"I encourage politicians to take one more step forward and eventually stop calling the Kremlin's propaganda tools 'media'. These propaganda channels are weapons for aggression against other states. These weapons, unlike conventional ones, are not for direct killing, but are aimed to affect peoples' thinking."