Putin Says Russian Life Expectancy is Up, Yet Country Lags Behind Europe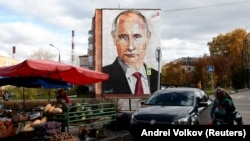 "In early 2000s our life expectancy was 65 years, and now it's almost 73."
Partially true
Russian life expectancy has risen to about the current level twice before
In 2016, the Russian Federal State Statistics Service reported life expectancy in Russia to be an average of 71.87 years. This number roughly equals French and British statistics of the 1960s.
Life expectancy numbers have shifted dramatically in recent decades. In Soviet times, the highest level reached was in 1987 when life expectancy in the USSR went above 70 years. In the early 1990s, after the break up of the Soviet Union, it dropped sharply and the worst index was registered in 1994 (63.98 years). By 2012, it swung back up, surpassing the record of the the late 1980s.
Early this year, the director of the School of Demographics of the Higher Institute of Economics, Anatoly Vishnevsky, said, "Our life expectancy is rising after it plummeted to the bottom. In the last 20 years we have been, essentially, restoring what we had lost. We have just surpassed the level that we achieved twice. In other words, in the mid 1960s we could have the same life expectancy as now."
"Yes, we've made it to the list of countries with life expectancy of 70 years and higher. It's a list of 51 countries and we're number 51," Vishnevsky said.
Putin's comments came at his annual news conference on Thursday, December 14, as he explained Russian economic and health demographics in the context of the upcoming presidential election.
"Even though there has been tremendous improvement within Russia in recent years," said Mark Schrad, assistant professor of political science at Villanova University, in Philadelphia, Pennsylvania. "They still lag far behind their neighbors."
Schrad, who is the author of the book Vodka Politics, told Polygraph.info Russian public health has improved in recent years, "despite Putin, rather than because of him."
In 2007, Russia adopted a "A Concept of Demographic Policy" which set a target of raising life expectancy to 75 years by 2025.
Life expectancy and other public health demographics can be driven by economic ups and downs as well as public behavior. Schrad explains "one of the main drivers of Russian health trends is the excess consumption of alcohol, primarily vodka. The professor credited the three upticks in Russian life expectancy to periods when the government clamped down on consumption of high alcohol liquors like vodka. Schrad says in recent years the Putin government undermined public health reforms in order to increase state revenues.
"Russian life expectancy while still far behind Europe, is at its highest ever and that's a good thing," Schrad told Polygraph.info. And yet he points to new trends in lagging fertility rates that indicate a possible "echo" of the 1990's, that "a long downward trend of Russian demographics has begun again." In 2017, he wrote in Foreign Affairs magazine, fertility in Russia was running ten to 15% lower than the year before.
According to estimates by the World Health Organization (WHO), the highest average life expectancy in the world is in Japan (83.7 years).WHO data for 2015 show the average global life expectancy was 71.4 years while it was 70.5 in Russia.
Russia's average life expectancy rose in the first nine months of 2017 to 72.6 years, according to the minister of health, is made possible in part due to high numbers from a handful of densely populated, urban areas such as Moscow. In those regions, government statistics show people living, on average, beyond 75 years and in one instance to 80 years. Yet, in more than half of Russia's statistical regions, people do not even reach age 70 and in some places the number is much lower.