Did Putin Show Oliver Stone Video Of Russian Combat In Syria?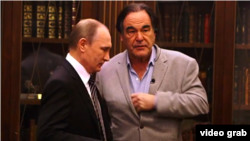 "Those are [IS] militants" [Vladimir Putin] "You wouldn't want to join [IS] if you saw that" [Oliver Stone].
Likely False
...video most likely U.S. air strikes in Afghanistan in 2009.
In the teaser for a series of interviews with President Vladimir Putin by Hollywood documentary film director Oliver Stone, Putin shows Stone a video clip that purports to show Russian air strikes on IS fighters in Syria.
Ukrainian blogger Fedir Panasenko was first to note on his Facebook page the discovery by Ukrainian computer scientist Artur Nalbandian that the footage actually showed U.S. air strikes on the Taliban in Afghanistan, not Russian forces striking IS.
Then the Russian military bloggers' group Conflict Intelligence Team analyzed the video Putin showed to Stone in comparison with the known U.S., Afghan video and found them to be identical. While the video quality is not very clear, the identical appearance of the figures moving across the screen and the timing of the clouds of smoke are unmistakable.
The U.S. technology news site Gizmodo went further and published a video of the two clips side by side and established that the original video was published in 2009 and said to have occurred in Afghanistan.
The video shows U.S. Apache helicopters, not Russian Mi-28 helicopters [warning: graphic] The 2009 video was first published by Military.com, a site not affiliated with the U.S. military but whose board once included two former members of the Joint Chiefs of Staff.
Atlantic Council's Digital Forensic Research Lab noted that in addition, in the video Putin showed on his i-phone, the soundtrack of two Ukrainian pilots carrying out a mission over the Donbas in May 2014 was mixed with the clip of the Afghanistan video.
In a statement on his Facebook page, Ruslan Leviev of the Conflict Intelligence Team explains how the mistake may have occurred. He noted that Putin is not believed to use a smart phone himself, as the state media has generally not shown him with one, by contrast with Prime Minister Dmitry Medvedev. Leviev believes that reports on the Syrian war, which are top secret, are delivered to Putin verbally and in writing, not electronically. When Kremlin.ru shows ministers briefing Putin in person, it is always orally, as for example recent briefings by Nikolai Patrushev, secretary of the Security Council and Defense Minister Sergei Shoigu.
But Stone, who was following Putin around through his work day and filming him, evidently wanted a visual image of the Syria reports. Leviev reasons that an aide may have hastily called up the first results on YouTube, where for a time, as Leviev notes, a video mislabeled "Mi-28N of the VKS RF [Russian Aerospace Troops] Destroys Terrorists in Syria" came up first in search results, although in fact it showed Apache helicopters in Afghanistan. While Leviev noted that after June 22, this video no longer appeared in the top search results, we found it lower down in the results, uploaded April 2016.
While the Russian Defense Ministry has released to the public numerous videos of air strikes in the war in Syria they are seldom as graphic.
Despite the overwhelming evidence of a clip mix-up, Kremlin spokesman Dmitry Peskov denied any error and doubled down on his insistence that the video showed the war in Syria.
In its report "Distract, Deceive, Destroy", the Atlantic Council notes that Russia has often given incorrect locations for its air strikes in Syria, falsely claiming that they were targeting IS-controlled areas.
Asked by RBC if the Russian Defense Ministry prepared the video, Peskov said "that was unnecessary" and refused to provide details of how the president got hold of it.
The Russian Defense Ministry also refused to comment. But sources close to it and the Kremlin told RBC that the video was prepared by aides at the Main Operations Department of the General Staff. Such materials go through a number of hands and are usually checked carefully.
Oliver Stone said that Putin would have no reason to fake the footage.